Case Studies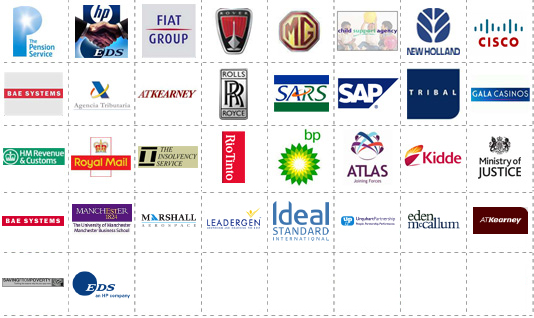 Over 25 years of experience of working in strategic change in many sectors.
---
Advisory - Private Sector
Procurement transformation in EMEA consumer goods business.
Product portfolio consolidation strategy in a global consumer goods business.
Procurement strategy for IT services category for Financial Services organisation.
Business case development for aerospace business.
Finance transformation and shared service strategy for EMEA consumer goods business.
Airline/ healthcare business due diligence for venture capital.
Leading the development of strategy for a consortium of UK IT service providers for shared service outsourcing in the UK Defence Sector.
Conducting a global research project on shared services for a network management supplier.
Leading a post-acquisition culture development in the petrochemicals sector.
Improving operations performance improvement in the aerospace sector.
Providing transformation support for a major UK postal service.
Advising Financial Services organisation on operations improvement for transactional processes.
Improving procurement and productivity performance in a mining organisation.
---
Advisory - Public Sector
Developing and delivering a transformation strategy for a Welfare Department.
Leading implementation support for a creation of customer contact and transaction processing centres for pension adminstration
Leading the creation and initial management of a Data Analysis Service for a Welfare and Taxation agency.
Advising on organisational design for consolidation strategy in a Welfare Department
Advising on outsourcing strategy for a Taxation Department.
Leading business case assessment for an Executive Agency in Business and Regulatory Reform.
---
Interim - Private Sector
Procurement leadership for consumer goods business.
In-service support leadership for aerospace provider to Defence sector.
Chief Executive in an automotive supplier.
Leading implementation of technology-enabled change in an automotive sector OEM.
Managing a change programme to develop the commercial partnership between a major IT service provider and its prime client: including the development of business and marketing strategy, consolidation of the service portfolio, the development of a partnering strategy, service delivery improvement and public relations management.
---
Interim - Public Sector
Leading implementation of shared services and outsourcing of taxation from the public to a private sector business.
Leading nationwide implementation of new business process, IT and organisational change in 26 service centres.
Developing an innovative financial shared service concept to improve debt management for citizens close to poverty in the UK.